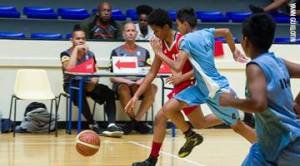 Some important matches took place today!
This is particularly the case in basketball, where the CBSES Indians won their U15 tournament. On the contrary, in U17, the girls of the Sainte-Geneviève had great difficulty in winning theirs, but they did it at the end of the suspense.
In the boys tournament, the Stade Français eventually lost against the Entente Sainte–Geneviève on a tight score, and this last one won the U17 trophy. Finally, and once again, Entente Sainte-Geneviève won its U15 final match against CBSE India. A true success for this team, and for the basketball tournament!
In handball, it is finally the team CSM Fiances 1 who won its ticket for tomorrow's final, thanks to a better goal average than the Lanester club. The girls will be facing the Indian women who have won their games of the day. The final is scheduled at 3.15pm.
Lanester and Colombes will compete for the third place then.
In the boys tournament, the 4 semi-finalists are made up of teams from the Ile-de-France region, unfortunately the English team and the Indian team have lost and wrapped-up a superb tournament for them.
Tomorrow is the end of the tournament with the remaining teams: UMS Pontault-Combault, Paris Handball, Entente Seine Nord 92 and Bois d'Arcy. Final scheduled at 2pm!
In football, things are getting tighter for the remaining teams. Many of the teams from the Ile-de-France, who are used to the tournament, have accessed to the semi-finals of their category, but some foreign teams also want to take part in the party until the end. This includes the Haitians of AS Truitier, Indians of Fountainhead, Faly from Canada, the PSG Academy Florida, Brazilians from Pinheiros and Ordin and Argentines from club Camioneros.
For the girls, only the AR10 Madrid team will represent the foreign countries, since the rest of the playoffs will be played between French clubs (Cergy Pontoise, Olympique Lyonnais, ACBB …)