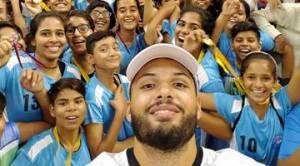 In basketball, while players from the Frenchy Associate came to host a workshop throughout the afternoon for our young players, it was indeed our sponsor Evan Fournier who presented the prizes to the teams of handball and basketball.
Welcomed like a star, he took the time to congratulate the players one by one, then to pose with them for a small photo shoot.
A real highlight of the day, sportingly and humanely!
For the handball precisely, the final matches took place. In the boys category, UMS Pontault Combault wins the tournament against the Entente Seine Nord 92 after a technical and tight match. For the girls, the team of CSM Finances 1 is the winner of its match against the Handball Federation of India, hence wins the tournament.
All the teams were present for the prizes ceremony, and the handball tournament ended on an excellent note in anticipation of the next edition!
Finally in football, a few winners have already been nominated. For example, ACCB 1, Paris FC, and SFC Neuilly-sur-Marne won the categories U10, U11 and U12 respectively.
The rest of the finals are played this Thursday all day at the Déjerine stadium, under a beautiful sun.