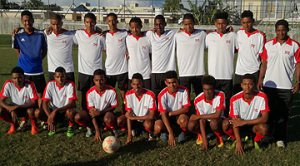 The manager and coach of the Football Academy of Mangalkhan Sports Club, Giovany Jeannot, gave us an interview.
This is the first time that a club from Mauritius takes part to the Paris World Games. They will take part to the U19 Football tournament.
You can find their Facebook page here.
1) Can you, in a few words, introduce your club Mangalkhan? (Creation, geographical location, number of licensees)?
We are from Mauritius, in the Indian Ocean, not far from Reunion Island, and located in the modest neighborhood of the Mangalkhan Residence, hence the name of our club, in the center of the island.
Our club was created in 1966, and our academy was officially established in 2013, after the closure of the football schools which had been operating since the 1990s.
Our academy is composed of 130 young people licensed to the club aged from 6 to 19 years, as well as the seniors. Some of our acaedmics are also part of the senior team, which has just won the Curepipe Regional League champion title, in 1st division.
2) What opportunity the Paris World Games can give to your club? Do you have a specific sporting objective?
This tournament will allow us to judge our level and learn more from other football nations. We are looking for a great experience and we want our football to be recognized.
We also hope that other participating teams will be able to identify and follow our young players and, maybe, offer them the opportunity to do an internship or a test in order for them to acquire more maturity in their category.
3) You are the first team from Mauritius to come to Paris for this tournament, is there a special feeling about that?
Indeed, and it is a great pleasure for us to represent our club and our island.
Participating in such an important event will be a rewarding and formative experience.
Our youngsters are very determined and we wholeheartedly hope that they can prove themselves.
Some of them actually took part in the 7th edition of the Montrichard tournament where they went to the quarter-finals, so we wish them even more!