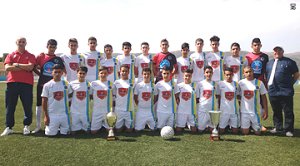 Two years after their first participation, the lion cubs of the Sebaou are back to celebrate sport in Paris.
They came in 2015 in the U15 category for a very first participation. This year, and with almost the same players, they return in the category of U17, with bigger ambitions.
Proud of their wins this season in the cup and championship of their department in Algeria, the lion cubs of the Sebaou return to Paris accompanied by the elegance of former international and sports sponsor of the club Moussa Saïb, as well as the emblematic figure of kabyle football, Ali Bellahcene, former goalkeeper of JSKabylie.