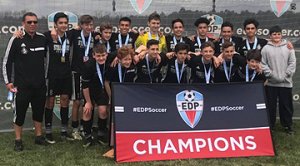 NJ Stallions Academy comes directly from the US to the Paris World Games!
Just like the PSG academy Miami, they are ready to take part in the boys U14 tournament. They will also have a team in the U15.
Their two accompanying leaders are previous international players: Jimmy Rivas and Marcelo Fracchia.
In fact, the Stallions maintained a mission of developing the future of youth soccer in America by offering programs employing positive coaching techniques, which allowed students to come away with increased self-confidence both on and off the field.
Stallions professional players were on-hand during youth camps and nearly every professional match, both Men's and Women's, included youth matches during half-time showcasing the talent of the next generation of players.