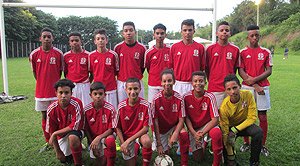 A new team joins the football tournament.
Indeed, Olympique Montagne will take part in the U-14 tournament from July 7 to 13 for this new Paris World Games edition.
We've been able to collect the feelings of their president, Jean-Marc Martin:
"Olympique Montagne is a football club on the Réunion island, located itself in the Indian Ocean, near Madagascar and Mauritius.
The club was created on November 2015. To date, we have 179 licensees divided into the different age categories.
The U-14, for their first year of existence, were ranked in the excellence promotion of their category.
This tournament, located at 10 000 km, is an important event for us: we have set up different actions and collections to finance our participation.
This will be a big moment for the club, but we are confident in our efforts; the enthusiasm and passion of our young players don't have limits!
We are aware that we will meet some high level players, but we will do our best to compete against them.
The main objective is still to have fun and to bring back memories for all the young people of our island."