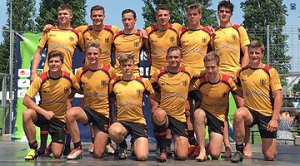 We are pleased to welcome the
Deutscher Rugby Verband
team to the Paris World Games, and we've been able to interview its team responsible.
What is your war cry?
3.2.1. Deutschland!
What is your U18 sport history?
We've been on the second place to the Olympic Hope Tournament in Prague, 8th to the Euros 2016, 6th to the Capricon 7s Namibia 2017, and 8th Howard Hinton 7s 2017.
Where are the players from?
Players from Germany U18 7s are spread over the whole country. We have players from Frankfurt, Berlin, Heidelberg, Düsseldorf, Hannover and also an German layer who lives in England.
How do you prepare for Paris World Games?
The Paris World Games are in the middle of our preparation for the Euros in September in Heidelberg, perfect timing as a preparation. Beforehand we have met for 2 Trainingcamps and 2 Tournaments (Capricon 7s, HH7s).
We are really looking forward to this great event!