Here we are, in the tournament heart: the fields. Handball is now part of the Paris World Games!
3 stadiums will host the teams coming from all over the world. All of them have the amenities to play Handball in the best conditions.
To make your trip confortable, all are located inside Paris and easily accessible by bus, subway or tram.
And for your pleasure, you will be able to follow, in some of those stages, other sports than yours…
Discover here the arenas list that will host Handball during the Paris World Games 2017:
STADE PIERRE DE COUBERTIN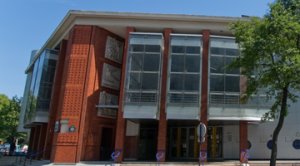 Built for the International Exhibition in 1937, the Pierre de Coubertin stadium reached the pinnacle of its glory in the 1950s and 1960s, hosting large boxing fights. Each year, there are hundreds of judo, karate, boxing, fencing, dancing, gymnastics, basketball, handball. It is also the home of the Paris Basket Racing team. The large hall is part of a sports complex with two adjoining rooms with 265 seats, a shooting range and a conference room with 230 seats.
For all the stadium details, click here.
CENTRE SPORTIF DE LA PLAINE

The sports center is located near the Périphérique, between the Porte de Vanves and the Porte de Versailles.
It includes a large gymnasium for indoor sports, a swimming pool, a football stadium, a volleyball court and a 350 m track and no less than 7 tennis courts.
For all the stadium details, click here.
GYMNASE KELLERMANN
The Gymnase Kellermann, located on the Boulevard Kellermann, was opened in 1989. With a total area of 1300 square meter, the Gymnase Kellermann is equipped with 6 changing rooms. It has an area of evolution of 30.00m on 20.00m (1300 square meter).
For all the stadium details, click here.