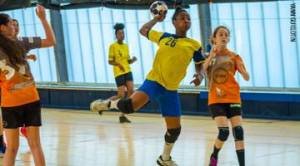 Despite the rain, all the matches took place today.
In handball, the group stage ended for the boys. As an example, the Bois d'Arcy team won at the last minute to qualify for the quarter-finals. The national team of India confirms its good shape since they've won their 3rd match and finishes first of their group.
Tomorrow will see these quarter-finals, including a match between Paris Handball against the English national team!
In the girls tournament, the ranking is still as tight as 4 teams are still in the race to qualify in the quarter-finals.
The matches of tomorrow will make it possible to know the two finalists of the tournament.
For the basketball, the French teams defended well and overall dominated the Indian teams, which are playing through their last effort whatever happens. Most playoff games are known and are scheduled for tomorrow.
In football, the Brazilian teams have done the show in and outside the lawn, as well as the Argentines of Camioneros who made a real demonstration. Despite difficult weather conditions, the London Tigers pulled out to win their game, and Faly Academy was able to count on a lot of supporters at the edge of the field.
Again, most of the playoff matches are known and will be played tomorrow … the atmosphere of the final stage is now approaching!