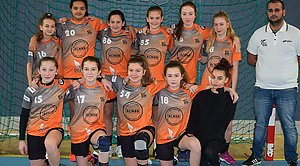 For this first Handball tournament edition, the Paris World Games are proud to welcome the Athletic Club Boulogne-Billancourt.
In fact, it has been 10 years that ACBB Handball plays a leading role in the national championships (the A team is now in Nationale 1 division) and attaches importance to train and keep its own players.
After being French Nationale 3 champion in 2008, ACBB has become French Nationale 2 champion in 2016.
The Handball section of the club aims at being back at the top level, keeping its young talents.
Its training of young referees is also a success: the section has obtained the "silver whistle" label for its arbitration school.
The club has now more than 390 licensees.
The 19 teams thus formed represent the club in all the age categories, both girls and boys.
The U15 girls and boys teams are the ones who join us for this edition of the Paris World Games.
You can visit their website here.