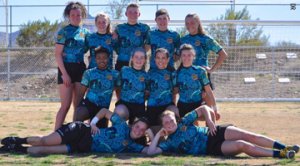 The Atlantis Rugby Club comes straight from Pennsylvania, USA.
Expert in Rugby Sevens, with women and men teams in all age categories, its players mainly come from Maryland, New Jersey and Pennsylvania.
It is the girls U18 team which joins this year the Paris World Games, as they have already played and won many tournaments, including the Las Vegas Invitational (http://www.goffrugbyreport.com/news/atlantis-awesome-girls-elite-7s-lvi).
They're coming to Paris very determined to showcase Rugby Sevens for their first participation !